GYM EQUIPMENT RANGE
Boasting over 350 pieces of equipment in its portfolio, Panatta offers the widest and most complete range of products on the market for all the various sectors, ages, types of training and investment budgets.
Feel the difference!
Our commercial gym fitness equipment is designed, produced and tested in Italy. It is a result of our passion and an expression of an Italian concept characterized by product and production processes that are innovation. Panatta is the craftsman of fitness, and our products are made to an extremely high standard using some of the best quality materials available. Because we manufacture our commercial gym equipment at our factory in Italy we are able to offer the customization of the machinery based on the customer's need.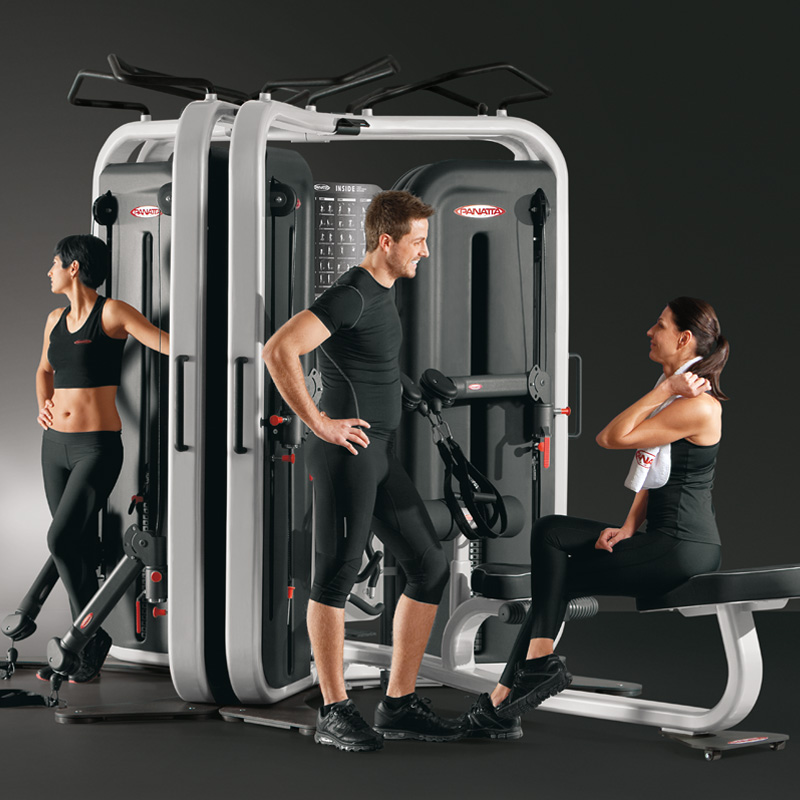 ---
//

CARDIO FITNESS EQUIPMENT
The cardio fitness line that has aged the keen competition of 10 years. The most imitated! A legendary name in the world of sports cars and the envoy of an unmistakable style throughout the world has designed the new line of Panatta cardio fitness equipment. A new concept in cardio fitness that represents the perfect union of form and technology, beauty and functionality.
---
//

STRENGTH COMMERCIAL GYM EQUIPMENT
Increase your strength, bulk up those muscles and show those sexy bikini lines or that six-pack abs the next time you hit the beach or the gym. The best of the best strength equipment brands were gathered together to form the ultimate product line up that will get you flexing those guns of yours proudly and with confidence. Panatta offers the best strength equipment in the gym and fitness industry, so contact us for your next gym fit out or equipment purchase!
These days, everyone is an athlete. What are the current fitness trends? Strength training, body weight training, HIIT (high intensity interval training), functional training, circuit training, etc. It has become crucial to ensure that you are offering the right strength equipment for the demographic you're looking to attract.
What does this all mean? It means that we can provide just the right strength equipment for your unique space and goals, so let's talk about your goals and find the right solution for your space!
---
//

FUNCTIONAL GYM TRAINING ACCESSORIES
Every gym and fitness place centre needs all types of gym accessories, whether it be kettlebells, weight plates, bars, storage racks, slam balls and everything in between. For Panatta Australia, we choose Southern Fitness Wholesale for the best gym and fitness accessories and products Australia wide! These efficient, compact and simple to use accessories allow you to complete and diversify machines and benches to ensure specific and professional workouts. From right here in Australia, have a look today and buy exactly what you need for your home or commercial gym; we do it all!
---
//

FUNCTIONAL AND FLEXIBILITY
Cross Training is the principal strength and conditioning program for many police academies and tactical operations teams, military special operations units, champion martial artists, and hundreds of other elite and professional athletes worldwide.
Cross training exercises can be done anywhere and with anything; but, to excel you need the right cross fit and training equipment – that's where Panatta jumps in!
In addition to cross fit and cross training, Multi Stations are the overall gym and fitness experience, helping you make the most of your floor space and help your members make the most of their workout time! Smart designs let users take on multiple exercises in a small space, quickly adjusting settings to maximize impact and results. To attract even more exercise enthusiasts to your fitness center, add ultra-versatile functional trainers that provide an unparalleled workout in an efficiently enclosed space.
---
---
//

CUSTOM UPHOLSTERY, PADDING AND INTERIOR